About
We follow a clear, fast and simple process which starts with your initial request and finishes with all of your requirements being met: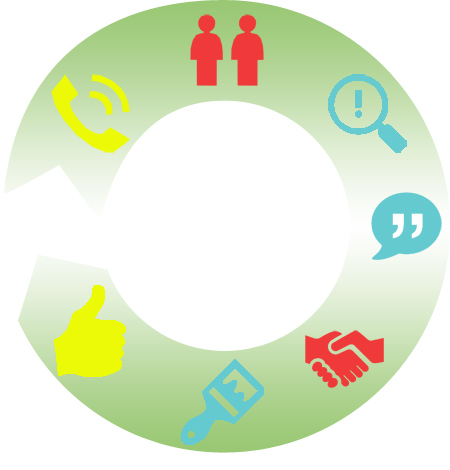 You request a quote from us
We will arrange to visit your property at a time that is convenient to you
We'll visit to estimate the work and to discuss your requirements
You receive a free written quotation within 3 working days
If you're happy with the quote then you let us know
We'll arrange a start date with you
We'll call near the date to confirm the start date
We'll start work, first checking again what needs doing
When carrying out the work we make sure that you're happy with the way things are progressing
After the work is completed to your satisfaction, you 'accept' work
The area is then cleared and left clean
Everything is concluded with your final payment
Pricing
Our pricing is highly competitive and we're certain that you'll get value for money. We accept payment by cash, cheque and PayPal.
Contact us for more details as well as further information on accepted methods of payment and terms.
Working times
Unlike some other trades we don't just work weekdays, 9-5. We understand that you need work to be done at a time which is suitable to you. We therefore offer flexible working arrangements and are happy to discuss with you any special requirements you may have.
Guarantee
We aim to offer a prompt and professional service, showing respect for you and your property.
Why us?
We pride ourselves on the high quality of our work and always ensure customer satisfaction.
We're often asked about the differences between someone giving you a quote over the phone for a 'paint job' and hiring a painting contractor. What they're often offering is a price for applying a coat of paint or two. Not included in the price is surface preparation and repairs - the key to a great finish - edge work, moldings and ceiling work. You may need these of course but you'll not know this from a price over the phone. You will know this once the work is complete.
At Allan Atkinson Painting and Decorating, we make sure that every nick and scratch is repaired, sealed and smoothed to create a perfect surface to paint. We use quality paint in the way you want it to give a pefect finish no matter how many coats it requires. Quality work at a fair price.